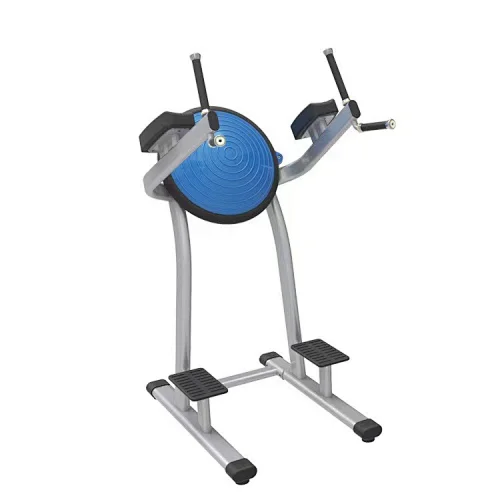 Vertical Knee Up/Dip
If you're looking for high-quality Vertical Knee Up/Dip equipment, Union Max Fitness is here to help. Contact us today to inquire about our offerings and to place an order.
Description of Vertical Knee Up/Dip
The vertical knee up/dip machine is designed primarily to target and strengthen the abdominal muscles. It provides users with a comfortable way to perform leg lifts, which aid in achieving abdominal muscle strengthening. The equipment is designed with a keen adherence to human kinematics, ensuring proper body alignment and effective exercise implementation. Moreover, its simple assembly design, compact structure, and minimal floor space requirements enhance overall convenience and efficiency during workouts. For anyone looking to make significant gains in abdominal strength and fitness, this machine is an indispensable piece of equipment that will undoubtedly yield both functional and aesthetic benefits.
Product Features of Vertical Knee Up/Dip
1. High-quality cushion made of sweat-absorbing and breathable PU leather. It is soft, comfortable, wear-resistant, and durable. It can also decompose the pressure from the elbow joint and protect it.
2. Non-slip grip with foam and leather design, ensuring safety, reliability, and comfort.
3. The surface has high-strength flash silver with a secondary varnish to prevent color changing, dirt, and rust. It uses high-end paint technology with stronger adhesion that meets the star environmental protection standard. It is environmentally friendly, odorless, and safe to use.
4. Auxiliary pedal design with raised anti-slip texture for safety and comfort.
5. Non-slip feet at the bottom support the equipment and enhance adhesion, safety, and floor protection.
6. The equipment has a small floor area, making it ideal for smaller spaces.
Specifications of Vertical Knee Up/Dip
| | |
| --- | --- |
| Product Name | Vertical Knee Up/Dip |
| Origin | China |
| Certifications | ISO 9001 |
| Brand | Union Max |
| MOQ | 1 piece |
| Packing | Cartons |
| Material | Steel |
| Size | 1270*710*1650mm |
| Color | Grey |
| G.W | 87kg |
| Applicable | Home, Office, Gym |
| Usage | Fitness |