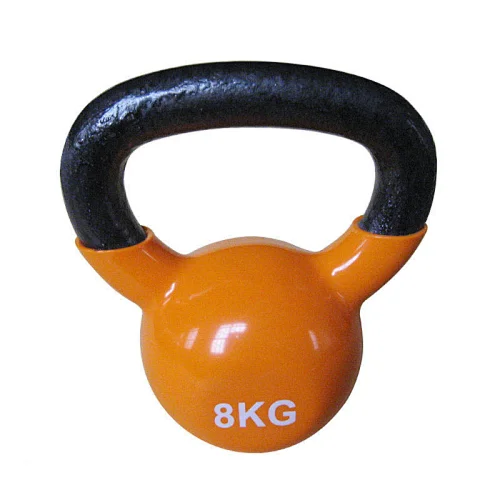 Vinyl Coated Cast Iron Kettlebell
price
US $2.65 / kilograms
Union Max Fitness offers 10+ years of experience in the export of vinyl coated cast iron kettlebells. Shop our selection of cast iron kettlebells for sale today. Get your workout routine off to a strong start with Union Max Fitness!
Description of Vinyl Coated Cast Iron Kettlebell
These colorful PVC dipped kettlebells are made from solid cast iron and then dipped in PVC for durability. Color coding makes weight selection easier for you during training. The handles on heavier kettlebells are large enough to accommodate both hands.
Product Features of Vinyl Coated Cast Iron Kettlebell
1.This Vinyl Coated Cast Iron Kettlebell is available in 10 sizes from 2kg to 20kg (in increments of 2kg).
2.The durable cast iron core is covered with a thick PVC coating for durability, safety, and comfort.
3.The weight number and color coding are printed on each kettlebell for quick identification.
4.The benefits of a dipped kettlebell workout include building muscle, improving core strength, enhancing balance, providing better bone health, burning calories, improving energy levels, and more.
5.You can buy them individually, in pairs, or as a set, and you can mix and match any size to suit your needs.
6.Conventional carton packaging can also choose pallet packaging.
Specifications of Vinyl Coated Cast Iron Kettlebell
| | |
| --- | --- |
| Product Name | Vinyl Coated Cast Iron Kettlebell |
| Origin | China |
| Certifications | ISO 9001 |
| MOQ | 500kg |
| Price | $2.65-3.95/kg |
| Packing | Carton |
| Usage | Build muscle |
| Application | Gym and your home |
| Material | Iron and PVC Dipped |
| Finish | Glossyor Matte |
| Size | 2kg to 20kg (in increments of 2kg) |
| Color | Green, Blue, Red, Orange,Pink, etc. (Can be customized on demand) |