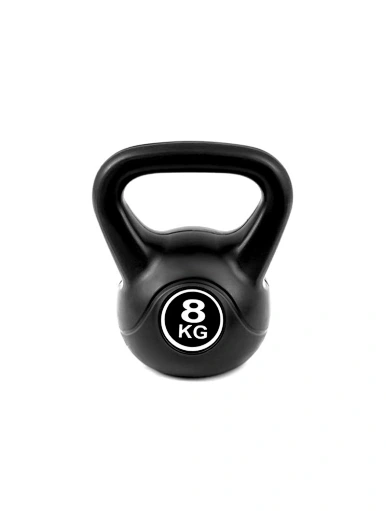 Vinyl Coated Cement Kettlebell
Looking for high quality strength training products? We manufacture vinyl coated cement kettlebells ranging from 2kg to 10kg. Contact us now to get yours!
Description of

 Vinyl Coated Cement Kettlebell
The benefits of vinyl coated cement kettlebell exercises include building muscle, improving core strength, enhancing balance, providing better bone health, burning calories, improving energy levels, adjusting overall mood, and more.
Product Features of Vinyl Coated Cement Kettlebell 
1. This vinyl coated cement kettlebell is available in 5 sizes: 2kg, 4kg, 6kg, 8kg, and 10kg.
2. Filled with cement, these vinyl coated cement kettlebells are a more economical option and feature a protective PE shell to prevent abrasion.
3. Vinyl coated cement kettlebells are used to work all major muscle groups, including arms, chest, back, abs, legs, and core.
4. The handle of the cement kettlebell has a smoother surface, allowing for exercises that do not irritate the hands.
5. You can buy them individually, in pairs, or as a set, and you can mix and match any size to suit your needs.
6. Conventional carton packaging can also choose pallet packaging. 
Specifications of Vinyl Coated Cement Kettlebell
| | |
| --- | --- |
| Product Name | Vinyl Coated Cement Kettlebell |
| Manufacturer | Union Max Fitness |
| Origin | China |
| Certifications | ISO 9001 |
| MOQ | 500kg |
| Price | $0.75-1.05/kg |
| Packing | Carton |
| Usage | Build muscle |
| Application | Gym and your home |
| Material | Cement and PE Shell |
| | | | | | |
| --- | --- | --- | --- | --- | --- |
| Size | 2kg | 4kg | 6kg | 8kg | 10kg |
| Color | Black | Black | Black | Black | Black |
| Length | 140mm | 165mm | 175mm | 185mm | 210mm |
| Width | 135mm | 155mm | 165mm | 175mm | 210mm |
| High | 200mm | 220mm | 240mm | 265mm | 295mm |