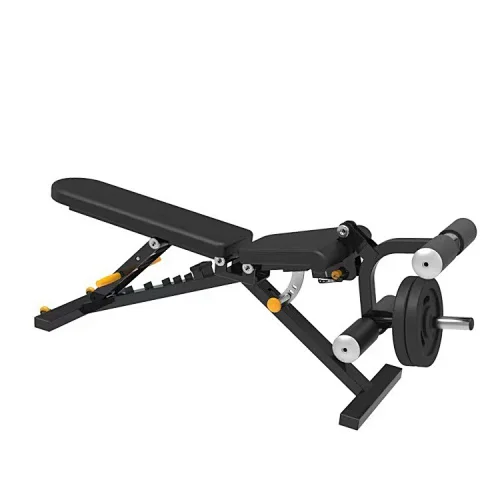 Weight Bench
We offer top-quality Weight Benches and would be happy to assist you with your fitness needs. Please don't hesitate to contact us if you are interested in procuring our products.
Description of Weight Bench
An ultra-durable, smooth, adjustable weight bench that provides high-strength bearing capacity and high safety even when using heavy objects. The sturdy frame and wide bottom ensure its stability. Suitable for both commercial gyms and home gyms. The multi-speed adjustment design can perform a variety of training movements, and can provide sufficient cushioning force during the adjustment process, making sports comfortable; this weight bench adopts a high-quality interior and durable frame, which is not only beautiful but also reliable. The weight bench is light, easy to move, doesn't take up much space, and is ideal for training at home and in the gym.
Product Features of Weight Bench
1. High-quality steel, thick four-pipe, triple reinforcement, stable and safe, strong support, super load-bearing, giving you the best safety protection.
2. The ergonomically designed panel, lengthened and widened, wide and thick, makes the movement more comfortable, can effectively protect the head, and reduce potential safety hazards.
3. Multi-angle adjustable, suitable for the whole family, different angles, more functions; according to personal exercise projects, choose the training slope that suits you.
4. High-quality PU leather cushion, inner disposable molded cotton, good resilience, tear resistance, sweat absorption, and breathability, wear-resistant and durable.
5. High-quality full foam, which can buffer the force of the legs during exercise, effectively relieve the pressure on the legs, absorb sweat, and deodorize.
6. The bottom of the dumbbell bench is equipped with a non-slip foot cover device, which is safe and non-slip, and does not hurt the floor; it is equipped with a mobile roller design, which is easy to move and easy to store.
Specifications of Weight Bench
| | |
| --- | --- |
| Product Name | Weight Bench |
| Origin | China |
| Certifications | ISO 9001 |
| Brand | Union Max |
| MOQ | 1 piece |
| Packing | Cartons |
| Material | Steel |
| Size | 1950*510*630mm |
| Color | Black |
| G.W | 45.5kg |
| Applicable | Home, Office, Gym |
| Usage | Fitness |