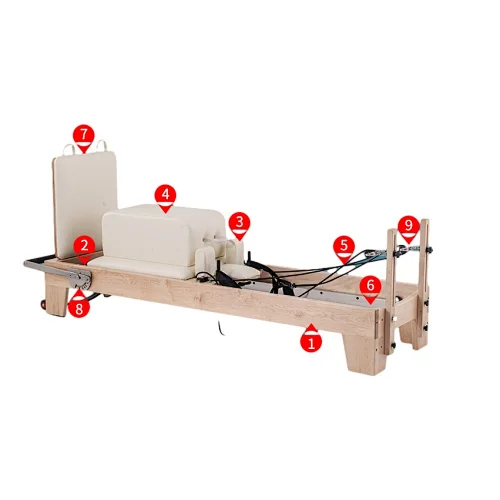 White Maple Pilates Reformer
White Maple Pilates Reformer-1
Union Max Fitness specializes in the manufacture of Yoga and Pilates products including the highest quality White Maple Pilates Reformer. If you need this product, please feel free to contact us.
Description of Pilates Reformer
White maple wood model: Canadian white maple wood + high rebound spring + plump skateboard + skin-friendly delicate leather + strong drawstring + aluminum-magnesium alloy guide rail + log leather baffle + six springs three-gear adjustment + pulley bearing + thickening Stainless steel fittings
Accessories: Both core training beds are equipped with square boxes, large pedals, small pedals, consumables-springs.
What can Pilates Reformer help us with?
The exercise of Pilates Reformer improves the blood circulation of the body, strengthens the muscles of the whole body, improves posture, improves health and other effects through the coordination of exercise and breathing, so that the muscles of the whole body develop in a balanced manner, especially the core muscles are effectively trained, and the control of the trunk is improved at the same time. Coordinate with the movements of the limbs, improve posture, shape a firm body, and enhance sports performance. Pilates Reformer can improve and reduce the difficulty of movements by adjusting the resistance of the spring, adapt to various fitness groups, and design different training methods for different people, which is incomparable to Pilates training on the mat.
Specifications of Pilates Reformer
| | |
| --- | --- |
| Product Name | Pilates Reformer |
| Features | Robust, versatile, cost-effective and long-lasting |
| Origin | China |
| Certifications | ISO 9001 |
| MOQ | 1piece |
| Brand | Union Max Fitness |
| Price | $447.6~704.76/piece |
| Leather color | White/black/gray |
| Usage | Pilates exercise |
| Product size | 2300*800*1980mm(650 mmwooden bottom) |
| Packaging size | 2440*850*360mm |
| Custom Size & Logo & shape | Please contact us individually for customization |