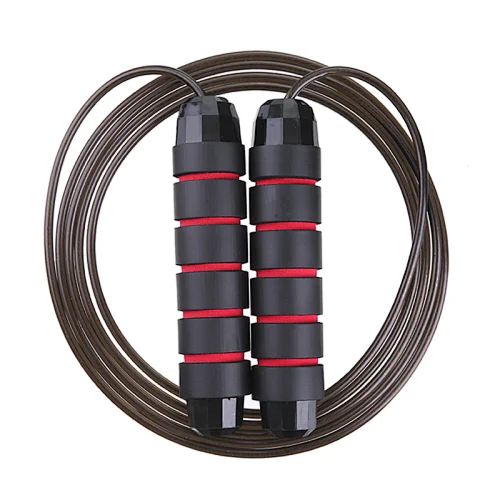 Wire Jump Rope
Union Max Fitness specializes in home workout products including the highest quality Wire Jump Rope.If you need this product, please feel free to contact us.
Description of Wire Jump Rope
Wire Jump Rope is a whole-body aerobic exercise. It can not only help you burn calories and lose weight, but also exercise your muscles to achieve the effect of shaping. It can also increase skin elasticity and help delay aging.
Our steel wire Wire Jump Rope has built-in steel wire, which is not easy to wind, and it is not afraid to meet various rough ground such as cement road and asphalt road! And use it together with the weight block, the effect is even better! Come and buy it!
Product Feature of Wire Jump Rope
1. The rope body of this Wire Jump Rope is made of non-toxic PVC material with steel wire rope embedded in it. It has good corrosion resistance and is very worth having.
2. Due to the characteristics of the steel wire rope, it is not afraid of any rough ground, and it is resistant to corrosion and will not break.
3. This skipping rope is strong and wear-resistant, and does not float, which is beneficial to the improvement of skipping speed.
4. This skipping rope has built-in bearings, strong toughness, not easy to wind around the rope, and can be adjustable length.
5. There are half-load models and full-load models to choose from. The total weight is 320g/420g, and the weight of the counterweight is 160g/260g. Please choose according to your needs.
Specifications of Wire Jump Rope
| | |
| --- | --- |
| Product Name | Wire Jump Rope |
| Origin | China |
| Brand | Union Max |
| Certifications | ISO 9001 |
| Material | PVC, Steel Wire, Foam |
| MOQ | 2pcs |
| Price | $0.53-0.91/Piece |
| Length | 2.8m |
| Rope Diameter | 4.5mm |
| Weight | 320g/ 420g |
| Color | Black, Blue, Red, Green |
| Packing | Carton, OPP bag |
| Usage | Lose Weight, Training, Entertainment |
| Application | Home, Gym, Outdoors |