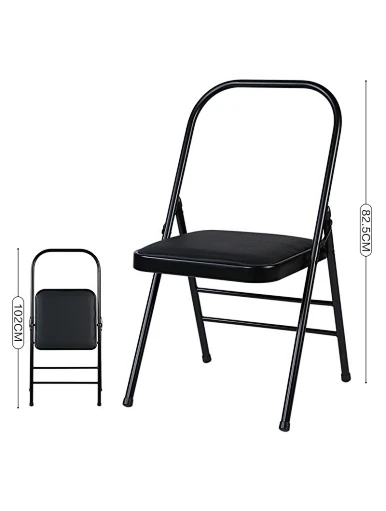 Yoga Chair
Union Max Fitness specializes in the manufacture of Yoga and Pilates products including the highest quality Yoga Chair. If you need this product, please feel free to contact us.
Description of Yoga Chair
Chair yoga is just a yoga practice method that uses the Yoga Chair as an auxiliary tool, and the yoga chair is the most important tool in this exercise.
For beginners or people with stiff bodies, many postures cannot be completed well at the beginning, but with the assistance of the Yoga Chair, the postures can become easier. Of course, if you have practiced to a certain level and want to advance, you can also use a chair to increase the difficulty. Therefore, the usage of the chair can be salty or sweet.
Chair yoga can make posture exercises more flexible. For example, with the assistance of the Yoga Chair, you can easily do this pose that you can't do normally.
Yoga Chairs can better repair the mind and body. With the assistance of the Yoga Chair, you can better stretch your body and enhance muscle elasticity.
With the assistance of the Yoga Chair, you can open your shoulders, beautify your back, treat your shoulders and neck, and beautify your back.
Product Features of Yoga Chair
1. Rounded corner design to prevent scratches.
2. The thickened iron frame is firm and compressive, and the load-bearing capacity can reach 200kg.
3. Stable bracket, mechanical triangular support design.
4. It is foldable, and there are waist support styles to choose from, which can enrich the needs of movements. The waist support accessories can be purchased separately.
5. Black and white, high-end and generous.
Specifications of Yoga Chair
| | |
| --- | --- |
| Product Name | YogaChair |
| Origin | China |
| Certifications | ISO 9001 |
| MOQ | 10piece |
| Brand | Union Max Fitness |
| Net weight | 4.85-7KG |
| Price | $13.83-20.43/piece |
| Color | Black/white |
| Application | Indoor and outdoor exercise |
| Material | Iron pipe + linen + rebound sponge |
| Usage | Yoga exercise and meditation |
| Size(length*width*height) | 44*40*83CM |
| Custom Size & Logo & shape | Please contact us individually for customization |