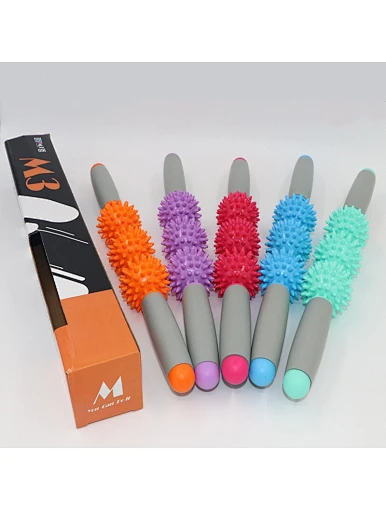 Yoga Massage Stick-Three Balls
Massage Stick -Three Balls-1
Union Max Fitness specializes in manufacturing Yoga and Pilates products, including Massage sticks of the highest quality. If you require this product, please do not hesitate to contact us.
Description of Yoga Massage Stick -Three Balls
The massage stick is divided into three parts: PVC massage ball, PP handle, and stainless steel core. The stainless steel core penetrates into the massage ball, and the two ends of the core are PP handles. This is the structure of this product. Although the structure is simple, it is strong and durable, resistant to falling, and not easy to break.
There are three balls in the massage area, the total length of the product is 42 cm, a variety of colors are available, and it is packed in a color box.
Straight-line massage stick, suitable for many parts, can massage evenly, can be used for feet, calves, legs, hamstrings, back, buttocks, etc., to relax muscles and fascia, and can be used as a relaxation stretch after exercise.
Waterproof and moisture-proof, with no pressure to clean, and can be directly immersed in water when cleaning.
Specifications of

 

Yoga Massage Stick-Three Balls
| | |
| --- | --- |
| Product Name | Yoga Massage stick-Three Balls |
| Origin | China |
| Certifications | ISO 9001 |
| MOQ | 20 piece |
| Brand | Union Max |
| Net weight | 275g |
| shape | Sphere + cylinder |
| Price | $1.35/piece |
| Color | Blue, purple, pink, red,green, orange,orange+green |
| Application | Indoor and outdoor exercise |
| Material | PVC+PP+stainless steel |
| Usage | Yoga exercise |
| Size | 42 cm |
| Custom Size & Logo & shape | Please contact us individually for customization |