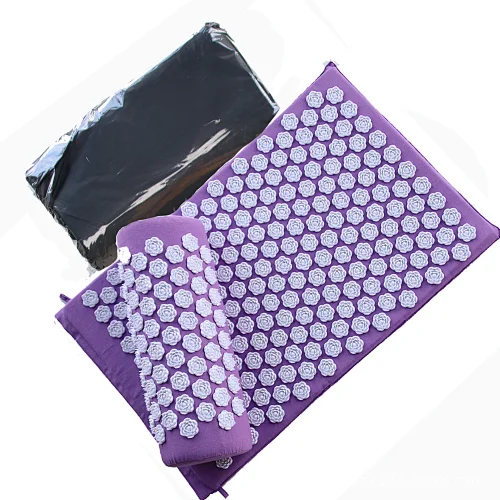 Yoga Needle Massage Mat
Yoga Needle Massage Mat-1
Union Max Fitness specializes in the manufacture of Yoga and Pilates products including the highest-quality Yoga Massage Mat. If you need this product, please feel free to contact us.
Description of Yoga Needle Massage Mat
Yoga Needle Massage Mat, just like his name, the front of the mat is covered with massage needles. Massage needles will not poke the skin like other needles, on the contrary, they can stimulate the muscle tissue. This product is also an acupuncture acupoint massage pad. The raw material is the synthesis of PP lotus needle plastic parts and cotton sponges. Skin-like touch, non-toxic, and more environmentally friendly. There are 210 massage flowers in one mat, 25 acupoints per petal. Acupuncture points are more scientific and precise. The petals are dark and dense. Or do yoga to decompress, you can see the effect.
Product Features of Yoga Needle Massage Mat
1. A complete set includes a massage pillow, massage cushion, and storage bag.
2. The cylindrical massage pillow is 15CM in diameter and 40CM in length, which is easy to carry and store.
3. The size of the rectangular massage pad is 42*68CM, the thickness is 2CM, and the effect is more concentrated.
4. The cotton fabric is removable and washable, and you don't need to worry about cleaning problems if you wash it directly.
Specifications of Yoga Massage Mat
| | |
| --- | --- |
| Product Name | Yoga Needle Massage Mat |
| Features | Massage, skin-friendly, removable and washable, easy to store |
| Origin | China |
| Certifications | ISO 9001 |
| MOQ | 2 piece |
| Brand | Union Max |
| Net weight | 650g |
| Price | $4.38/piece |
| Color | Green, purple, blue, black |
| Application | Indoor and outdoor exercise |
| Material | PP+cotton+sponge |
| Usage | Sports + massage |
| Size | 68*42*2cm/40*15cm |
| Custom Size & Logo & shape | Please contact us individually for customization |