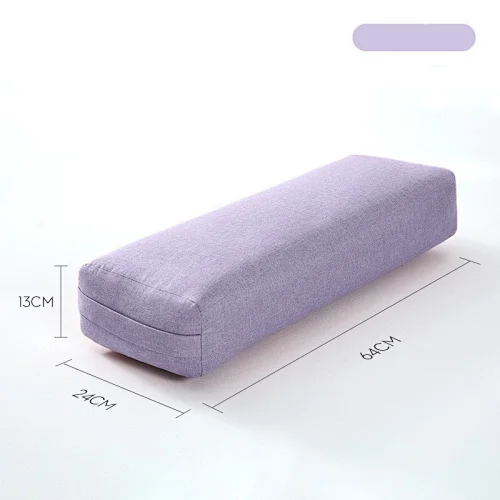 Yoga Pillow
Union Max Fitness specializes in the manufacture of Yoga and Pilates products including the highest quality Yoga Pillow. If you need this product, please feel free to contact us.
Description of Yoga Pillow
A Yoga Pillow is an auxiliary tool for yoga exercise, also called a yoga bolster. Being used as a bolster for yoga relaxation exercises, it is different from a general pillow and is more supportive. It is usually used to support the back, waist, and neck or for yoga poses in the relaxation phase to increase comfort and reduce exercise. In addition to professional performance when doing yoga, it can also be used as a support pad for the calf, and it is also helpful to relax the leg muscles.
A Yoga Pillow is like a giant pillow designed to be used in various yoga poses, either horizontally or vertically under the body.
A Yoga Pillow is often used in restorative or gentle yoga practices, and it can be helpful for any type of yoga, and support your body during yoga, meditation, or relaxation.
Product Features of Yoga Pillow
1. The product size is 64*24*13cm, the weight is 800g, and the cotton and linen texture fabric will give you a non-sultry experience.
2. Filled with high elastic foam for superior comfort and cushioning, the Yoga Pillow has a sturdy handle for easy portability and easy grip.
3. The Yoga Pillow has concealed zipper and a seamless finish, convenient, sturdy, and easy-to-carry handle.
4. The pillowcase is easily removable for easy cleaning. And the color does not fade after washing. With a strict color fastness test, the pillowcase can be machine washed with peace of mind.
Specifications of Yoga Pillow
| | |
| --- | --- |
| Product Name | Yoga Pillow |
| Features | Comfortable, not stuffy, not deformed, good-looking |
| Origin | China |
| Certifications | ISO 9001 |
| MOQ | 1piece |
| Brand | Union Max |
| Net weight | 800g |
| Price | $5.71/piece |
| Color | Purple, pink,blue,white |
| Application | Indoor and outdoor exercise |
| Material | 100% polyester fiber + high elastic sponge |
| Usage | Yoga exercise and meditation |
| Size(length*width*height) | 64*24*13cm |
| Custom Size & Logo & shape | Please contact us individually for customization |