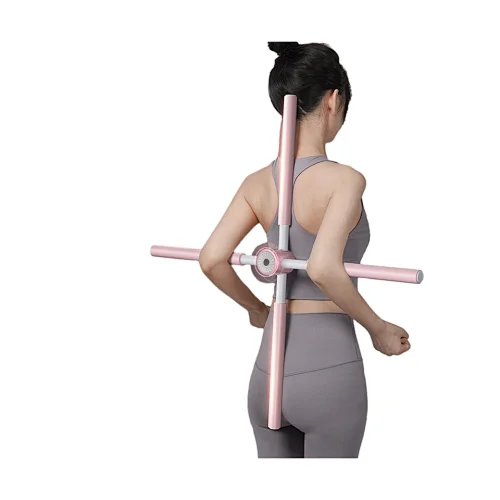 Yoga Stick For Back
Union Max Fitness manufactures core exercise products including the highest quality Yoga Stick For Back. If you need this product, please feel free to contact us.
Description of Yoga stick
The yoga back-opening stick is also a body stick. The body stick is a simple corrective brace that can serve as a warning or restraint. The product uses an adjustable angle connector, which can adjust the angle according to different body shapes, soft foam packaging, and a length of 8CM suitable for children and adults. The built-in metal tube covered with two layers of EVA foam is durable, smooth, and comfortable. The surface of the metal steel pipe is smooth, solid, and not easy to damage. The inner foam is tear-resistant, and the outer foam absorbs sweat and is non-slip. Compared with the wooden stick, the foam model has a better experience.
Unlike wearable posture correctors, you don't need to wear them all the time, only use them for 10 to 30 minutes in leisure time, they can help you open up your shoulders, and you'll get a beautiful posture, more confidence, and healthier, and younger-looking. Have a better posture and enjoy a good life.
The yoga stick can be used by the whole family. It is a removable design for easy storage.
Specifications of Yoga stick
| | |
| --- | --- |
| Product Name | Yoga body stick |
| Features | Durable, tear resistant, comfortable, non-slip |
| Origin | China |
| Certifications | ISO 9001 |
| MOQ | 20 piece |
| Brand | Union Max |
| Net weight | 850g |
| Price | $1.62/piece |
| Color | Grey, blue, pink, green |
| Application | Indoor and outdoor exercise |
| Material | Metal+EVA foam |
| Usage | Shoulder and back |
| Size | 80cm*2 |
| Custom Size & Logo & shape | Please contact us individually for customization |