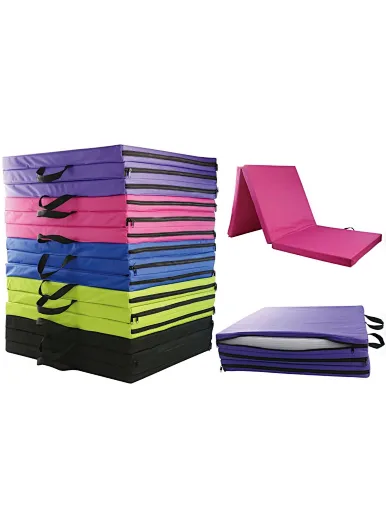 PU Gymnastics Mat
Union Max Fitness specialize in Gymnastics Mat including PU Gymnastics Mat of the highest quality. If you require this product, please do not hesitate to reach out to us.
Description of 

PU Gymnastics Mat
This gymnastic mat is made of leather, the overall pearl cotton filling gives you a comfortable experience, soft and elastic, and has good cushioning. This PU gymnastics mat provides excellent, safer support for planks, and calisthenics, and is also ideal for teaching children basic gymnastics and exercises.
Product Feature of PU Gymnastics Mat
1. This PU gymnastics mat is made of PU fabric filled with EPE, high-density EPE provides a comfortable experience, and the gymnastics mat is durable but soft. Can maintain a posture for a long time, with higher stability.
2. Zipper design, easy to disassemble and clean, good cushioning, and prolonged use time.
3. A variety of colors for your choice: pink, rose red, red, orange, yellow, green, purple, blue, army green, camouflage green, etc.
4. There are various specifications, including straight type, two-fold type, three-fold type, and four-fold type, and the regular thickness is 5cm and 10cm. The length, width, thickness, and color can also be customized according to your needs.
5. W
oven bag packaging, if you have other requirements for packaging, please contact us for customization.
6. Sold as a single piece, the minimum order quantity is
200
 pieces.
Specifications of PU Gymnastics Mat
100*50*5cm, 100*50*10cm, 120*60*5cm, 120*60*10cm, 180*60*5cm, 180*60*5cm, 200*100*5cm, 200*100*10cm,

200*120*5cm, 200*120*10cm,

100*50*5cm, 100*50*10cm, 120*60*5cm, 120*60*10cm, 180*60*5cm, 180*60*5cm, 200*100*5cm, 200*100*10cm,

200*120*5cm, 200*120*10cm,

180*60*5cm, 180*60*5cm, 200*100*5cm, 200*100*10cm,

200*120*5cm, 200*120*10cm,

240*120*5cm, 240*120*10cm, ect

Green, Blue, Red, Rose Red, Pink, Orange, Yellow, Purple, Army Green, Camouflage, ect