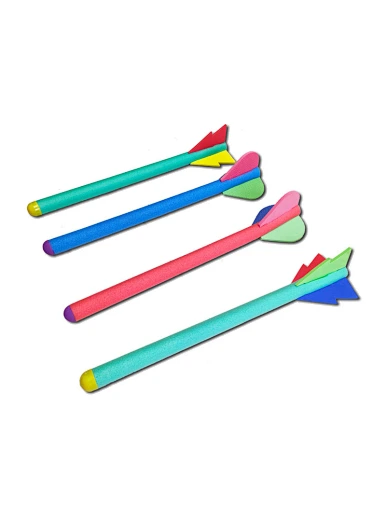 Soft Javelin
Union Max Fitness specializes in sports training products including the highest quality Soft Javelin. If you need this product, please feel free to contact us.
Description of

Soft Javelin
Made entirely of foam, this brightly colored javelin measures 80-90 cm long. Weighing just 110g, the javelin is exceptionally lightweight and ideal for teaching beginners proper javelin technique. Stabilizers ensure precise flight in the air. The soft training javelin is versatile and can be used for target practice, long distance throws, and high throws; all without fear of injury or damage to your surroundings.
Product Features of

Soft Javelin
1. The tail has a cross-shaped design, and the overall shape is rocket-shaped, and the flight is smooth.
2. The gun body is a cylinder with a PVC tube inside and an environmentally friendly plastic foam tube outside, and the inside of the gun head is made of EVA material.
3. Tail design, EVA material hardness is moderate, prolong the service life of the javelin.
Specifications of

 

Soft Javelin
| | |
| --- | --- |
| Product Name | Soft Javelin |
| Origin | China |
| Certifications | ISO 9001 |
| Brand | Union Max |
| MOQ | 100 pieces |
| Price | $2.27-3.10/piece |
| Packing | Carton |
| Material | EVA |
| Size | 80-90cm*4.5cm |
| Color | Red/Blue/Green |
| Usage | Physical Training |