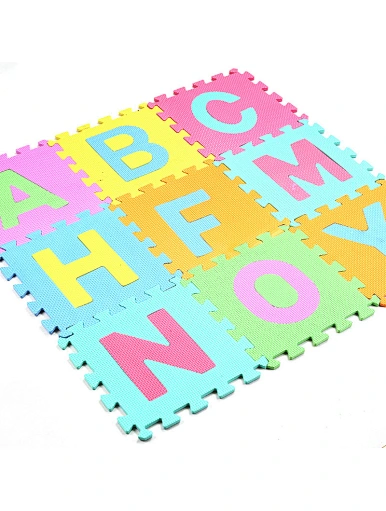 Spliced Baby Crawl Floor Mat 30*30cm
Union Max Fitness specialize in EVA foam mat including Spliced Baby Crawl Floor Mat 30*30 cm of the highest quality. If you require this product, please do not hesitate to reach out to us.
Description of Spliced Baby Crawl Floor Mat

 30*30cm
Feel confident with this durable, high-density foam that gives your child the cushioning, support, and protection they need. With non-slip and soft textured material, your child can play comfortably and safely by preventing sliding without hurting themselves, and the letters and numbers on it can also be an early education tool.
Product Feature of

Spliced Baby Crawl Floor Mat

 30*30cm
1. The size of this EVA foam pad is 30*30*0.8cm. There are two sets of numbers and letters. The number set is 10 pieces/set, and the letter set is 26 pieces/set
.
2.
This EVA foam mat is environmentally friendly, non-toxic
,
 and odorless, meeting the safety standards for children, soft and durable, skin-friendly, brightly colored and
,
 designed with letters and numbers on it to help children learn letters and numbers
.
3
. Beautifully designed with bright looks, and easy to transport and install with an easy-to-use snap-on design, our kid's floor mat turns any hard floor into a comfortable play area for children of all ages
.
4
. Easily clean the puzzle mat by wetting a towel or soft cloth with warm water and household soap. Rub the mat gently. Apply mild laundry detergent solution for tougher stains and let it air dry or gently wipe with a dry cloth.
5
. The size, thickness
,
 and color of the product can be customized on demand to meet your requirements
.
Specifications of

Spliced Baby Crawl Floor Mat

 30*30cm
Product Name

Spliced Baby Crawl Floor Mat 30*30cm

Origin

China

Certifications

ISO 9001

Material

EVA

MOQ

200 sets

Price

$15.5-35.5/set

Size

30*30cm

Thickness

0.8cm

Type

Digital set: 10 pieces/set;

Letter set: 26 pieces/set.

Packing

WovenBag

Usage

Children Playing Space