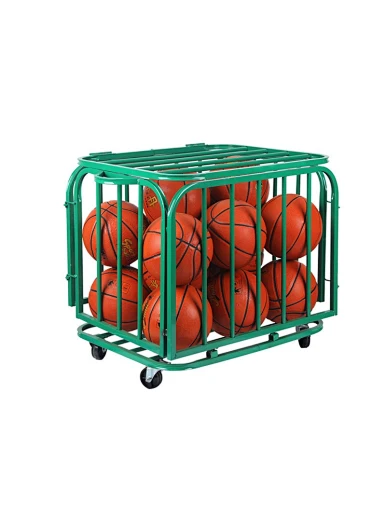 Stainless Steel Storage Ball Cart
Stainless Steel Storage Ball Cart -1
Union Max Fitness specializes in sports training products including the highest quality Stainless Steel Storage Ball Cart. If you need this product, please feel free to contact us.
Description of

Stainless Steel Storage Ball Cart
The stainless steel ball storage ballcart is a practical cart for storing and transporting sports balls. Constructed entirely of stainless steel or iron tubing, this cart is durable and resistant to damage from moisture, rust and corrosion. Equipped with casters, the cart can be easily moved on a variety of surfaces including grass, concrete and gym floors. This cart is commonly used in schools, sports facilities and recreation centers to transport and store balls for games and practice. It helps organize and manage sports equipment, making it easy for teams to get the balls they need quickly and efficiently. The ergonomic design of the trolley ensures easy movement and maneuvering even when fully loaded with heavy balls. The cart's stainless steel construction ensures it can withstand harsh environments and perform well for years to come.
Product Features of

Stainless Steel Storage Ball Cart
1. High-quality stainless steel or iron pipe painting design, good corrosion resistance, high temperature and low temperature resistance, high strength.
2. The edge is rounded and curved to prevent injury from bumping, and it is safe and secure.
3. The flip cover design is adopted on the front and the upper side, which can avoid touching the stomach or head when taking or putting the ball, which is convenient and quick.
4. Universal wheel design, can rotate 360°, easily push the cart.
5. Folding and storage, does not take up space; at the same time, the folding method is simple, and the handle design is easy to carry.
Specifications of

 

Stainless Steel Storage Ball Cart
| | |
| --- | --- |
| Product Name | Stainless Steel Storage Ball Cart |
| Origin | China |
| Certifications | ISO 9001 |
| Brand | Union Max |
| MOQ | 50 pieces |
| Price | $26.83-57.87/piece |
| Packing | Carton |
| Material | Stainless Steel/Iron |
| Size | 60*70*80cm/70*80*80cm/80*90*90cm |
| Craft | Painted/Not Painted |
| Capacity | 16-40 Pieces |
| Usage | Physical Training |