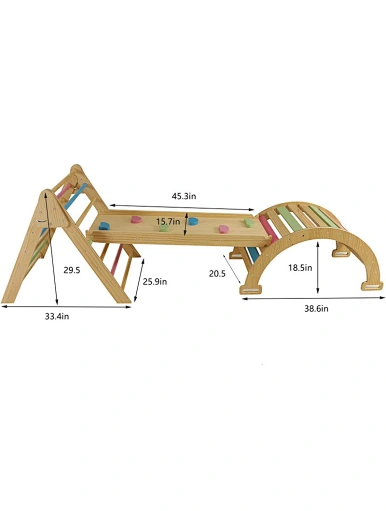 The Toddler Climbing Arch Set
The Toddler Climbing Arch Set-1
Union Max Fitness specializes in home workout products including the highest quality The Toddler Climbing Arch Set. If you need this product, please feel free to contact us.
Description of

 

The Toddler Climbing Arch Set
The Toddler Climbing Arch Set contains 3 different items, climbing arches, ramps and triangle climbers. It promotes active physical exercise, develops motor skills and creates endless fun. Help and encourage children to explore, giving them confidence, stability and strength through super strong, safe and durable play.
Product Feature of

 

The Toddler Climbing Arch Set
1.The Toddler Climbing Arch Set helps develop gross motor skills and supports exploration indoors.
2. It promotes body control and muscle development through safe risk-taking and trial and error.
3. Climbing stimulates cognitive development, boosting confidence and problem-solving abilities.
4. This set enhances total body coordination, agility, and adaptability from an early age.
5. Parental guidance is required for a safe and rewarding climbing experience.
6. Made of solid wood and plywood, this set is durable and visually appealing with its log and color board design.
Specifications of

The Toddler Climbing Arch Set
| | |
| --- | --- |
| Product Name | The Toddler Climbing Arch Set |
| Origin | China |
| Brand | Union Max |
| Certifications | ISO 9001 |
| Material | Solid wood, Plywood |
| MOQ | 20pcs |
| Price | $68.1/Piece |
| Size | 117.3*25.9*29.5inch |
| Weight | 13kg |
| Packing | Carton |
| Color | Log and colored board |
| Usage | Enhance Overall Coordination And Agility |
| Application | Home, Outdoors |