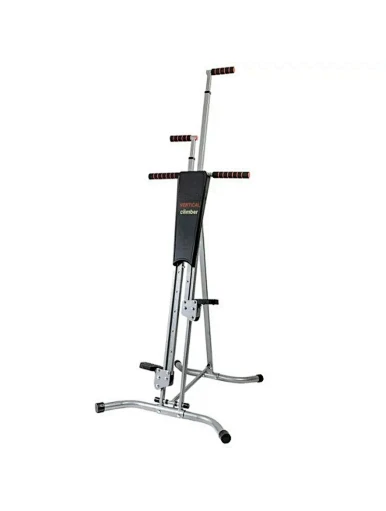 Vertical Climber Stair Steppers
Vertical Climber Stair Steppers-1
Union Max Fitness is a supplier of Vertical Climber Stair Steppers. If you are interested, please contact us for further information.
Description of Vertical Climber Stair Steppers
Introducing a versatile and user-friendly climber suitable for all fitness levels, complete with a bonus companion Fitness App. This equipment offers a full-body workout that blends cardio and muscle toning, which you can achieve in a single step. Additionally, the low-impact workout ensures that your knees and ankles remain pain-free. This time-saving machine eliminates the need to drive to the gym and use multiple machines. Assembling it is a breeze as it is lightweight and height-adjustable. It comes pre-assembled at 90% capacity, so you can start using it within minutes. Furthermore, with compact folding, this climber is easy to store away, making it a perfect addition to your home gym.
Product Features of Vertical Climber Stair Steppers
1.Our home gym equipment features a strict and extensive quality control process to ensure that the machinery remains neat, attractive, stable, and safe during all your workouts. Our emphasis on quality ensures that the apparatus can withstand the rigors of regular exercise without compromising on its appearance, sturdiness, and safety.
2.Our climbing machine is an all-in-one fitness apparatus, which is perfect for targeting vital muscle areas such as legs, thighs, hips, buttocks, calves, arms, and back. Irrespective of whether you are looking to work on a certain muscle group or engage in a full-body workout, our equipment is versatile enough to cater to all your workout needs.
3.Our exercise equipment is designed to provide a comprehensive full-body workout, targeting key muscle areas including the legs, hips, thighs, arms, buttocks, calves, and back. By using our equipment, you can stimulate and strengthen these muscle groups, leading to improved fitness, strength, and overall health.
Specifications of Vertical Climber Stair Steppers
| | |
| --- | --- |
| Product Name | Vertical Climber Stair Steppers |
| Brand | Union Max Fitness |
| Color | Customed |
| Frame Material | Steel |
| Packing | 1Set/Carton |
| MOQ | 1Pcs |
| N.W | 14KG |
| Size | 92*70.5*(158-197)cm |
| Packing Size | 133*18*27cm |