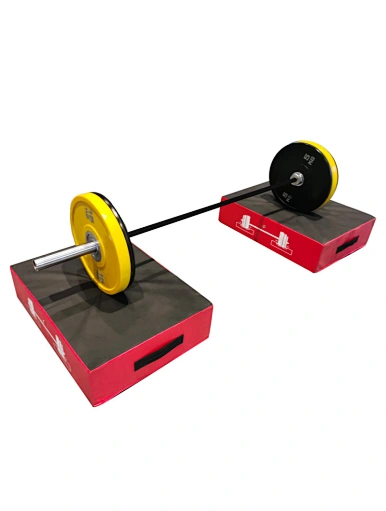 Weightlifting Drop Pads with PVC Cover
Weightlifting Drop Pads with PVC Cover-1
Union Max Fitness specialize in gym mat including Weightlifting Drop Pads with PVC Cover of the highest quality. If you require this product, please do not hesitate to reach out to us.
Description of Weightlifting Drop Pads with PVC Cover
For fitness enthusiasts, the barbell needs to be put down when practicing deadlifts and squats, and there is an impact process when returning to the ground. The main function of this product is to protect the ground and provide a buffer function. Made with thick, high-density foam, this weightlifting mat absorbs noise and vibration associated with heavy barbell drops, helping to protect floors from damage.
Product Feature of Weightlifting Drop Pads with PVC Cover
1. The surface is designed with PVC waterproof leather, and the interior is filled with a high-density sponge, which can be used for tens of thousands of times, shock absorption, and wear resistance.
2. This weightlifting mat features a PVC leather shell with high-density stitching, durable and high-quality support foam that won't tear, crush or lose its shape. The PVC shell is resistant to damage from heavy drops and strong enough to retain its color and shape for a long time.
3. Each barbell pad is equipped with a handle for easy carrying and storage, which is convenient for personal trainers and athletes to exercise on the go, ideal for outdoor and indoor exercise use.
4. Easy to disassemble, detachable care, easy to clean.
5. The weight lifting pad measures 100*60cm, which can provide you enough space to comfortably drop your barbell, and the 15cm thickness can reduce the shock, vibration and noise of each drop.
6. The bottom adopts high-quality zipper and its own breathing hole can be used for ventilation, allowing the weight lifting pad to breathe every time it is dropped, and this breathing effect can prolong the life of the weight lifting pad.
Specifications of Weightlifting Drop Pads with PVC Cover
| | |
| --- | --- |
| Product Name | Weightlifting Drop Pads with PVC Cover |
| Origin | China |
| Certifications | ISO 9001 |
| Material | PVC and Sponge |
| MOQ | 50pcs |
| Price | $42.5-52.5/Piece |
| Size | 100*60cm |
| Thickness | 15cm |
| Weight | 28kg |
| Packing | Carton |
| Color | Black and Red |
| Usage | Protect the ground, Force Buffer |
| Application | Gym |